Growing up I read and followed two superheroes: Batman and Spider-Man.
Batman was just a man, fighting crime in the DC Universe alongside literal gods. He trained to be a strong and skilled fighter. He studied to become the world's greatest detective. While I cannot relate to being a billionaire and recognise that the lack of resources effectively closes off any further realism to the character (looking at you Stark), he still most closely resembled a character to whom I could relate.
(Superman, on the other hand, seemed so powerful that I found him uninteresting. Simply dialling up the strength of the enemies to make it work felt…lazy.)
Spider-Man is familiar in the sense that he's the high school kid from Queens. He's the friendly neighbourhood superhero who makes jokes and shows his youthful immaturity at times. Still, he got bit by a radioactive spider to gain his power, so I needed Batman in my life as well.
Plus, who can beat those rogues galleries? Joker, Bane, Ra's al-Ghul, Two-Face, Penguin. Green Goblin, Doctor Octopus, Electro, Vulture, Kraven.
And they remained side pursuits in my life – a lesser form of literature purely to satisfy a sense of entertainment and act as the shared mythology of my day (I do enjoy Celtic, Greek, and Norse mythology). They did not serve as much of a basis for my own literary pursuits, and the characters were mostly too colourful to even serve as a guide to how I might go about creating and developing characters for my stories – at least not until Christopher Nolan and Christian Bale grounded Batman (more) in reality.
And not until Chris Evans changed my attitude towards Captain America.
First Avenger
As a boy I loved to play with toy soldiers. I had legions of the staple plastic army men from various sets and a smaller collection of Micro Machines (ah, those were great toys). Most of the characters served as cannon fodder, objects in action set pieces to entertain, but the driving force was a handful of figures that served as principal actors in the stories of my mind.
I had a green figure who served as the hero, and a small cast of allies who formed the elite core of the good forces – a Howling Commandos of sorts. I had a grey figure, an officer in a menacing pose with a pistol and officer's uniform, who played the chief baddie. Like the hero, he had lieutenants that had to fall before the hero could confront him.
In high school, the 9/11 attacks occurred and cemented my childhood ambition to serve in the military. It had been a secondary interest (the first being professional ice hockey player, but that had fallen away already), and the sense of powerlessness in the wake of the attacks compelled me to do something….heroic. I enlisted in the Air Force's Delayed Entry Program at 17 with parental permission, tested off the charts, and selected a prestigious intelligence position.
By the end of that Delayed Entry Program, I had reconsidered and decided against the enlistment, withdrawing my consent (permissible up to the moment I took my final oath and shipped off to basic training – a beauty of the DEP) and going to college instead. We will come back to this decision.
I was not a Captain America fan as a child because I did not understand the character. To me, Cap loved America and fought Nazis – I had little knowledge of the more recent incarnation of the character. He was a patriot who happened to be on our side.
Chris Evans changed my opinion of that immediately. Rogers was a man of principle, a scrawny kid from Brooklyn who did not want to kill Germans but rather wanted to stand up to bullies. Like me in those middle and high school years, he was the scrawny kid with
the principles and nothing but wit and determination to support them. The more unscrupulous characters, always being far more physically effective, had a distinct advantage when it came to disagreement. They would pay no mind to the principles or, finding their path obstructed, simply bulldoze the path.
The strength of Rogers initial character, as had to become mine, was not in the ability to knock down the unscrupulous but in the ability to stand up consistently no matter how bad the beating.
Steve Rogers: You start running they'll never let you stop. You stand up, push back. Can't say no forever, right?
A Very Polite Person
One of the first things one associates with Steve Rogers is his politeness and respect. Just
as Rogers is not out to impose his strength on others unless they are bullies, he is out to give individuals a chance to do right. When he meets Bruce Banner, he puts aside the fear shared by much of the crew about his "huge green rage monster" tendencies to focus on his scientific contributions. On the train trying to stop Ultron, he gives the Maximoff twins their first chance to side with the heroes and becomes a mentor to Wanda. His loyalty to Barnes is unparalleled. He befriends Wilson as a stranger on the street and forms a strong bond with T'Challa. Age of Ultron opens with a gag about Rogers' distaste for profanity, always wanting to be the good example, even in the heat of battle.
Rogers is not these things because he thinks other people view them as right, he is those things because he views them as right. Beyond all of the laws, regulations, and mores guiding interpersonal relations, Cap has a strong sense of internal rules that safeguard his altruism. People inherently deserve respect until they forfeit it through their bullying of other people.
Cap has the advantage over me in that he is far better about engaging in conflict when required though. We see him stand up to Stark, pursuing avenues to avoid physical conflict without sacrificing his principles (remember, he does not fight Stark out of hatred, but as a last resort to move forward when Stark has no option but to try and restrain Cap physically). He stands up to Nick Fury regularly through The Avengers and Winter Soldier. Likewise, he stands up to Romanoff over her duplicity and distant demeanour:
Steve Rogers: You just can't stop yourself from lying, can you?

Nick Fury: I didn't lie. Agent Romanoff had a different mission than yours.

Steve Rogers: Which you didn't feel obliged to share.

Nick Fury: I'm not obliged to do anything.

Steve Rogers: Those hostages could have died, Nick.

Nick Fury: I sent the greatest soldier in history to make sure that didn't happen.

Steve Rogers: Soldiers trust each other. That's what makes it an army. Not a bunch of guys running around shooting guns.

Nick Fury: Last time I trusted someone, I lost an eye. Look, I didn't want you doing anything you weren't comfortable with. Agent Romanoff is comfortable with everything.

Steve Rogers: I can't lead a mission when the people I'm leading have missions of their own.
I can push disagreements to a certain extent. Playing hockey (more so than the other sports), I found myself compelled to step between teammates and opponents to diffuse situations rather than simply grabbing the nearest unoccupied opponent. I could shake off the transgressions of opponents but would pull teammates aside for theirs, demanding they do better when representing the team.
Yet with closer relations I do have a tendency to preserve relationships, often by changing subjects and hoping never to encounter the issue again. With time I have learned to trust myself, and others, to address topics directly. When approached with the same respect I normally endeavour to offer, most people are willing to discuss the matter with civility for the sake of the relationship. If not, or if the parties are unwilling to waver, I have learned that some relationships must be permitted to die in order to progress.
Rogers cares about Stark, but he's with Barnes to the end of the line and could not sacrifice his principles.
God's Righteous Man
As much as Rogers might see a situation pointed south and want to head the other way (spoiler: he does not), he cannot. That is all part of his principled existence – they are beyond God and country, at least in the sense that he demands more of himself than is required by any Earthly institution. He defines himself by his principles and the efforts to safeguard them, both for himself and for others.
It creates an interesting paradox in which Cap is unable to live without a war. He goes from the events of World War II to the Chitauri invasion to the HYDRA infiltration of S.H.I.E.L.D. to their Civil War and finally to the Infinity War. Violent conflict so dominates his life that even the governments of the world decide to get involved:
Secretary Ross: How about "Dangerous?" What would you call a group of US-based, enhanced individuals, who routinely ignores sovereign borders and inflict their will wherever they choose and who, frankly, seem unconcerned about what they leave behind them. New York. Washington DC. Sokovia. Lagos.
After the Lagos footage, still raw in their minds (especially Wanda's), Rogers simply tells Ross that they've seen enough and lets Ross continue with his pontificating.
As I watched the scene, identifying with Rogers' character, I found myself thinking, "New York was an alien invasion by Thor's adopted brother intent on subjugating the whole of humanity. We contained that to a few blocks in Midtown and stopped them. Washington was the entirety of S.H.I.E.L.D. compromised by HYDRA and moments from killing millions, billions of people. Sorry that hijacked helicarrier crashed in the Potomac. Sokovia – Tony built a kill-bot who initiated a global destruction event and we stopped that. Lagos….sure, I'll own that I became distracted and that allowed Rumlow to set off the explosion, but we stopped them from stealing a biological agent."
Rogers does not need a war and could live well without one. Circumstances do not allow it. This is true to some extent for all of the Avengers, though some of the conflict stems directly from their actions (again, Tony did not have to create Ultron, so that's on him, but without that we would not have Vision either – and perhaps Ant-Man does not join up with the greater team and they both seem significant parts of the battle against Thanos, but I digress).
They have ideological disagreements about how to go about things, but none of them want a war:
Tony Stark: That would end the team. Isn't that the mission? Isn't that the why we fight, so we can end the fight, so we get to go home?

Steve Rogers: Every time someone tries to win a war before it starts, innocent people die. Every time.
I simply happen to agree with Rogers' attitudes towards it. Punishment comes after the crime, and nuclear deterrents and preemptive strikes are not good policies. People are imperfect and sometimes compromise is necessary to overcome our mistakes. By that I mean that some acts are wrong – always. To take an extreme example, killing is always wrong. That would be obvious in the case of murder, but I maintain that it's wrong in all cases. Self-defence would be a situation where lethal force becomes unavoidable and one would not adjudge the person to be bad or evil, but the act itself remains a bad one.
The nature of Rogers' abilities and therefore profession necessitates that he find himself in those circumstances regularly. He acts only when it becomes necessary in keeping with his principles, and his life often presents situations in which it becomes necessary. Who else is stopping Red Skull and Thanos but the likes of the Avengers and Guardians?
Likewise, I am not the sort to seek out conflict. I do not patrol Twitter and the various comments sections of the Internet looking for reasons to take offence and launch a keyboard tirade about my principles. I am, however, so inclined to pursue readings aligned with my interests, and what interests me are my principles and their applications to complex social issues. If, in the course of my regular activity, I come across an egregious offence to my principles, I am inclined to speak – first by seeking common ground with the speaker and then by more severe condemnations if needed.
In person I function similarly. Ambulance chasers are not good company, but I cannot turn away from a situation that violates my principles. The approach to the situation is one of respect, civility, and de-escalation every step of the way until the opponent denies all of those avenues. Sometimes relationships must fail or be re-defined. Transparency, accountability, and responsibility are paramount, and I expect those in my life to hold me to those things even to a higher degree than I hold those in my life.
Are you still with me?

Dark Side
Is Steve Rogers perfect? Of course not. I am writing a biased piece about the positive aspects of Rogers' character with which I identify, and much of the items with which I identify fall within the purview of my obsessive-compulsive personality disorder (also here).
I am confident that many clinicians would tell you that OCPD is not terribly difficult to diagnose, but even as a disorder it can be virtually impossible to treat if for no reason other than those living with OCPD regard their principles above that of a "cure".
My internal rules and regulations are so severe that they impede my life at times, yet I also would not deviate from them. I recognise it as a form of stoicism in the eyes of many, and only the need to maintain polite, pleasant relationships with others prevents my personal sense of principles from crossing into self-righteousness and pomposity.
In that sense, perhaps no real dark side of this exists, only a comparative one that feels dark to someone with such an intense sense of "do what is right, no matter the personal cost". My wife (jokingly?) warns me that I am not to "get any better" as I'm already a "much better person" than she is and it makes her look even worse by comparison. Certainly it can be upsetting, annoying, or off-putting to others:
Tony Stark: Yeah, give him time. We don't know what the Maximoff kid showed him.

Steve Rogers: Earth's mightiest heroes… pulled us apart like cotton candy.

Tony Stark: Seems like you walked away alright.

Steve Rogers: Is that a problem?

Tony Stark: I don't trust a guy without a dark side. Call me old fashioned.

Steve Rogers: Well, let's just say you haven't seen it yet.
Rogers' idea of a dark side might be telling Secretary Ross that they plan to fight regardless of what the Accords say even fighting him (and his forces) if they insist on getting in the way. Perhaps it was his willingness to take the fight with Stark to such an extreme, though he does end it by promising to be there if needed. Perhaps we still have not seen his dark side.
With such a set of principles, how dark can one be? I feel a "dark side" in myself at times, a sense of outrage or even just strong disappointment in others' inability to do the principled thing. It can arouse a sense of, "Test me" at times. Still, it only goes so far. Some behaviours are wrong and for one to avoid at all costs. On the other hand,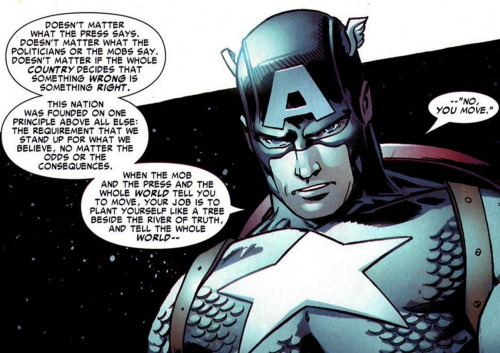 Do I have such a grand view of myself as to think, "If Captain America were real, I'd probably be him"? Absolutely not. Even translated from comic book fantasy to reality, I do not equate myself with Steve Rogers (or Chris Evans, for that matter). Cap serves as a beacon for my principles though, especially in the version created by Evans on the screen. If I wrapped my ideology up into one concise character and then embellished it for the vivid world of comics, one would see something very much like the Captain.
And, of course, there is always room for another Captain in my life.